Many people have idealized martial arts as a way in which you can become a proficient fighter. But little do they know that there are also many other benefits of training martial arts in a camp.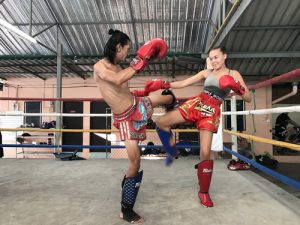 The first big benefit of training, say, Muay Thai, comes in the fact that you will be improving your health with each and every consecutive training session that you walk into. So, the best time to start the process of improving your health is right now.
Go ahead and find a Muay Thai training camp as soon as you can. You will be delighted to learn that there are many of them all around the world since Muay Thai is one of the most popular martial arts in existence. We believe that there are thousands of training camps all around the world.
So, what are some of the health benefits of training Muay Thai? The first thing that you can expect is that you will lose weight. If you have had any issues with having excessive weight in terms of body mass, then training Muay Thai is one of the smartest things that you can do with your spare time. You will have to expend a lot of energy during each and every training session that you have.
If you can add in some healthy changes to your diet, then you will do all that's in your power to improve your health. Moreover, by training Muay Thai you will be building up your muscle mass. This is not something to be taken lightly – strength is one of the most important parameters of health. If you wish to stay healthy – then it's important for you to stay strong.
But we can spend hours and hours in trying to drill in the importance and benefits of training Muay Thai and it will amount to very little if you fail to act out on this. So, your best bet is to find a Muay Thai training camp and start training Muay Thai as soon as possible. This will make you healthier and stronger.