Are you tired of the boring gym training session in your neighborhood? Do you want to feel adrenaline rush and good sweating? If these things bother you – travel to Thailand and starting training Muay Thai!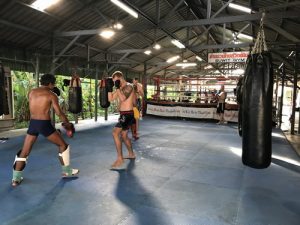 Recreational sports are getting saturated with the usual offers – aerobics, gym training sessions with the same old programs. People who are training for recreation are looking for new ways for physical activity, something that is more effective and more complete at the same time. We are talking about both genders of course. In the recent years men and women have found that various martial art disciplines and their variations like kick boxing, Muay Thai (Thai Boxing) and aero kick boxing actually work.
We will focus on Muay Thai because we consider it to be the best among all others. There are many people who think that Muay Thai is actually an exhausting and hard fighting martial art in which the goal is to hurt your opponent as much as you can. But that's not true.
Muay Thai is an ancient martial art (according to some source it is 2.000 years old) and the only weapon that is used in this martial art are the limbs.
Muay Thai training sessions are very good for those who want to sculpt their whole body and acquire a balance between their physical and mental abilities. What makes Muay Thai special is that it can be used by anyone. Older people find this combat sport as a great way to relieve stress and activate their muscles. The good sweating and fast calorie burning makes this sport attractive for women too. Just like any other training, Muay Thai training requires slow introduction into the training routine and with the help of the right trainers you can achieve that easily.
When we talk about good trainers and Muay Thai in general there is no better place to start training other than joining a Muay Thai training camp in Thailand. With the help of the professional trainers you will achieve anything you want. If you are looking for a professional and popular Muay Thai training camp in Thailand that has experience in working with foreigners we strongly suggest you visit Suwit Muay Thai training camp located on the unforgettable Phuket Island. Students in Suwit Muay Thai training camp are practicing original Thai way of Muay Thai training and with the help of the professional staff you will learn everything you need about Thai boxing and Thai culture and tradition in general. After all in order to fight like a Thai you must train like a Thai!