Phuket Travel Tips – A basic guide
Suwit Muay Thai gym is in Phuket island.
Phuket is one of the most famous islands in the world at least when it comes to tourism and interesting travel destinations. There are many people who travel to Bangkok first and take a plane, bus or train to reach Phuket. Of course, you can travel to Phuket directly in case you don't want to waste your time on other places because we can assure you that Phuket has so many things to offer.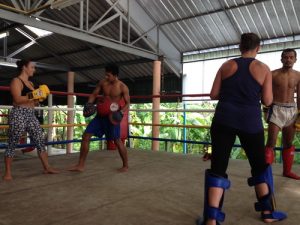 It is also worth mentioning that this island is the biggest island in Thailand and a separate province. It is located near the west coast of Thailand in the beautiful Andaman Sea. From the first moment you arrive in this hilly island you will notice that it is very picturesque and full of natural wonders. There are many beautiful beaches all over the island although the majority of people use the beaches on the west side of the island. This means that if you are fond of peace you can visit a beach on the east side of the island. As previously mentioned, Phuket is a real paradise for every category of tourists. However, if you are looking for an active holiday that is different from the typical lazy holiday then you should try Muay Thai training, Signing up for Muay Thai classes in a camp is easy. There are many camps there and they are known for their long tradition and professionalism.
A quality Muay Thai training camp accepts all types of students regardless of their goals. Most people are here to improve their health and strengthen their body while learning self-defense moves. Feel free to observe a Muay Thai class before you enroll to some camp. Our advice is to join a camp that is close to some beach because in this way in case your family is not interested in taking classes they can enjoy the natural beauties of Thailand while they are close to you. Remember that Muay Thai training brings benefits for both – your physical and emotional health. On top of that, the classes (just like everything else in Phuket and Thailand) are very cheap.