If you are reading this article, then you are also one of them who use the word "coach" and "trainer" interchangeably in the field of Muay Thai. However, getting a real insight into the subject will remove the difference between the two. Let's dig it out.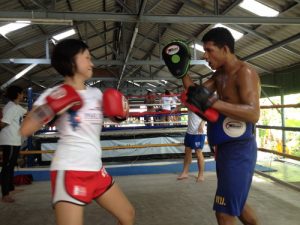 A coach explains the purpose that a trainer teaches:
A trainer will only tell you what to do, but a coach will tell you how to do it.  The coach helps you understanding the exact purpose behind learning that move and the calculated risks associated with it. You will also come to know about the advantages and other follow-up techniques that help you achieving the same possible outcome with much ease.
A coach helps you building your styles:
Different trainers have different styles to teach; you can sense that better by visiting a couple of different Muay Thai training camps in Thailand. They teach only what they know, but a coach does much beyond that. He helps you tailoring your styles that suit you better.
Most of the times, while you practice shadow boxing or sparring, a trainer/coach will stand behind you just to observe your moves. The task of the trainer ends as soon as he highlights the technical faults in front of you but a coach additionally analyses a better mode of access taking your strengths and weakness into account.
A trainer is knowledgeable; a coach is multi-faceted:
A trainer will imply the same training rules on everyone despite their variable strengths and weakness, but a coach prefers teaching an individual. Unlike trainer who has very little knowledge on the weak links of every individual, a coach caters both physical as well as mental attributes. He coaches the way an individual will get benefited on all grounds like strength, nutrition, physiology, etc.