Muay Thai is a combat sport of Thailand that uses stand-up striking along with several clinching techniques. This bodily and psychological discipline which includes combat on shins is known as "the art of eight limbs" as it is categorized by the combined use of fists, elbows, knees, shins, being related to a good physical grounding that makes a full-contact fighter very proficient.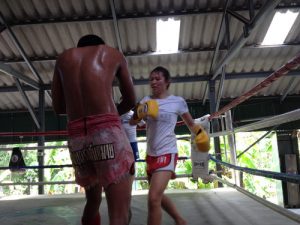 These are the 4 things you should prepare while training in Thailand.
Selecting a Camp
When defining the Muay Thai camp in which you want to train at, the first thing you have to consider the type of experience you would like to have and your current level of experience. There are two camps, one is the authentic/local public and the other are geared towards foreigners.
Start with The Training
Training in Muay Thai in Thailand is a bit not easy so prepare yourself for the most exhausting, grueling, and painful, yet worthwhile, pleasurable, and memorable experience. A normal day training will consist of a morning and afternoon run, two sessions that last between two-three hours each and the fighters will commonly train five to six days a week.
Your Accommodations
Thailand accommodations can be as reasonable or as lavish as you want it to be depending upon what you can afford. It is highly recommended to stay in the camp's dormitory. In the morning you are woken up with music ringing out from the camp and the shrill crack of shins on Thai pads.
Body Nourishment
Delicious street food is everywhere and tremendously affordable, and completely safe as Thai food is so delicious that it is almost impossible to spend your entire day trying various cuisines. Supply your body with the electrolytes it needs.