A healthy and fit body and mind is a prerequisite for everyone, and that's why you should stop at nothing to ensure that you achieve that good health.
While there are many expensive ways and restrictive diets people have tried over time, many of them don't deliver the results. Those methods that deliver results might not give lasting solutions.
However, Muay Thai has offered a solution that is both cost-effective and delivers long-lasting results. The sport has been instrumental in helping many people achieve weight loss, fitness, and good health.
Muay Thai is a mixed martial arts sport from Thailand that uses the eight limbs to work your way towards weight loss and good health and fitness.
It is a fast-paced sport that builds core strength and achieves general body fitness. It comprises several techniques including cardio, endurance, and resistance training to improve overall health.
The mixed martial exercise method is great at delivering weight loss benefits, burning fat quickly, achieving flexibility, and building healthy muscle.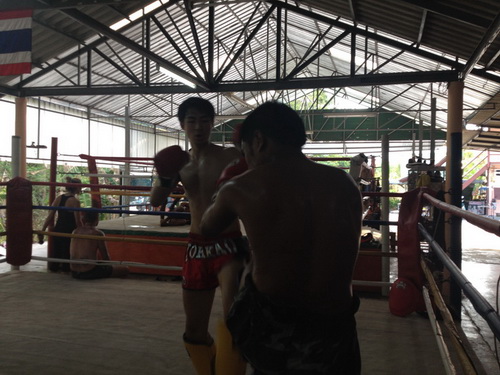 How Muay Thai training works on the body
All the movements you engage in during Muay Thai training are calculated and focused on different areas of the body. The methods involved in Muay Thai exercise serve as both a regular workout routine and self-defense training.
Many of the Muay Thai exercises are high-intensity techniques, so they burn a large number of calories compared to other fitness exercises.
The body movements you learn at a Muay Thai training camp in Thailand will maintain the strength of your muscles, improve bone density and strength, and promote body movement.
Muay Thai training is often carried out in groups, with an experienced instructor teaching members of the group what they should know, and guiding them through the process.
The Muay Thai instructor or trainer will encourage every member of the class to focus their energy and focus on the training techniques according to their abilities and levels of experience.
The training always begins with warm-up activities such as jogging, jump rope, and other aerobic exercises to boost the heartbeat and get the body ready for the main training.
One important part of Muay Thai training for the best results is ensuring to eat a balanced diet comprising vitamins, high protein, and low carbohydrate meals.
The right meals you eat go a long way to ensure that you have the energy needed for daily training while ensuring that you're able to achieve weight loss.
Visit Thailand for good health benefits with Muay Thai
Whatever you aim to achieve with Muay Thai training, whether fitness, weight loss, muscle development, or just general health, you can visit a Muay Thai training camp in Thailand to achieve your goals.
A beautiful Muay Thai training camp in Thailand is a great way to improve your health and fitness while learning about the interesting history of mixed martial arts sport. Enjoy the benefits of this martial arts sport and work your way into lasting health.