Suwit Muay Thai Gym :  Introduction 
The specific type of punches and kicks that are typical for this ancient martial art makes it much more attractive than classic boxing or kickboxing.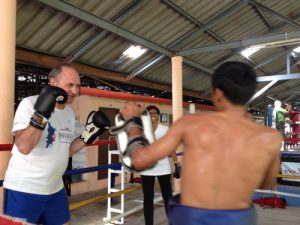 Muay Thai or Thai boxing is one of the oldest martial arts in the world. As the name suggests it was created in Thailand, a country in Southeast Asia where it has a status of national sport. It was developed out of regular fighting skills, but what makes it special is its dynamics. One the other hand, what makes it different from classic Western boxing is that there are many clinches in it, throwing of the opponent in the ring, various kicks with the knees and elbows and certain rules allow grabbing and holding the opponent on his legs. All these things make Muay Thai so attractive and training camps all over Thailand are booming. Besides that, Muay Thai became very popular among amateurs and recreationalists because Muay Thai training can help people improve their general fitness, explosiveness of the body and strength.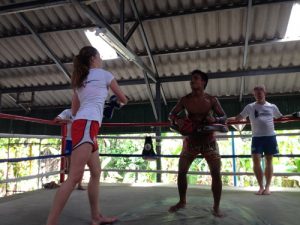 People usually choose martial arts because they can learn the basic rules of self-defense. However, the speed of movement and the powerful punches and kicks of professional Muay Thai fighters are the things that attract most of the new followers of this combat sport. In addition, the daily efforts to improve the motor skills and master the technique of punches and kicks will develop not only your body, but your mental matrix too. People regardless of their age and gender can be part of Muay Thai training classes. You don't have to be physically prepared in order to exercise all you need to have is determination and focus.   
Those who are training at Suwit Muay Thai in Phuket for recreational purposes should have gloves, bandages and focusers and even punching a bag can make a great workout for them. Those who want to get into more serious training should carry a mouthpiece, shin-guards and a helmet. This is something that every trainer in a Muay Thai camp in Thailand will advise.  Muay Thai training in Thailand is good choice.
If Muay Thai is practiced in Suwit Muay Thai training camp and gym you can expect to get yourself in great shape which includes elimination of extra pounds too. We hope that this introduction to Muay Thai will help you join a camp to lose weight. Suwit training camp with different types of program is good for you to travel in amazing country.
Suwit Muay Thai for emotional release :
Suwit Muay Thai camp in Thailand is located just one mile away from a beautiful beach. Although this is a place which is almost fully oriented towards tourism, but people who live there are great fans of Muay Thai (Thai boxing).
Suwit Muay Thai for incredible trip :
Suwit gym is a Muay Thai training camp where you can practice authentic Muay Thai.
Suwit Muay Thai near natural beauty :
Feel free to take your family on this type of trip because Suwit Muay Thai is family-friendly and the same applies for Phuket Island.
Suwit Muay Thai for cultural discovery : You'll also learn how to defend yourself as well. It won't matter if you could do devastating damage to your opponents if you don't know how to defend yourself at the same time.
Suwit Muay Thai gym for defend yourself : Muay Thai is the most popular sport in Thailand. It is practiced by thousands of Thais and millions enjoy watching Muay Thai matches. But, Muay Thai or Thai boxing was not always a combat sport. It was first used as fighting skill and martial art by common Thai people and Thai army to fight intruders.
Suwit Muay Thai for marvel lounging : In the last two decades, when Thailand became a popular travel destination, people have figured out that Muay Thai can be used as a fitness activity too.
Suwit Muay Thai of rich heritage : With proper Muay Thai training, people can lose weight and improve their health very fast. They can also learn how to defend themselves and get the body that they have always wanted. Of course, if they want to get all these benefits and much more, they need to join a professional Muay Thai training camp.
Suwit Muay Thai gym with professional trainer  : The training sessions are usually longer than one hour and they are very intensive. It is a known fact that increased activity burns fat faster during the whole day. So you don't have to worry a lot if you have a good meal after that.
Suwit Muay Thai with nutrition guidance : You will also get the traits of discipline and perseverance. These are all very important psychological and character traits that a person ought to integrate if he or she is to become the best versions of themselves and reach their true potential.
Suwit Muay Thai with surprising fact : It is all essential to being practicing first in shadow quietly during training, without your partner, without your opponent, that he is already trying to hit you.
Suwit Muay Thai with massive partnership : It is also essential to train your resistance a lot so that you can do the same when you start with the first round and when you are in the fifth round.
Suwit Muay Thai for exotic life .
The Muay Thai training & room package for 1 month is 11,000  Thai Baht (   320 USD  , 303  Euro) .
Suwitmuaythaigym  Business & News :
Suwit fitness center or sport club and team – Phuket is one of the glamorous, sophisticated and completed planned cities in Thailand. If you have strong urge and enthusiasm to see the straight Muay Thai fighting, it is the right place for you. Trained fighters and trainers are found entertaining visitors who spend holiday in Phuket.
Suwit Muay Thai with nice room :
Muay Thai is a martial art that originated in Thailand. It is a combat sport that involves striking and clinching techniques. Muay Thai is a great way to improve your health and fitness, as well as learn self-defense skills. If you are interested in learning Muay Thai, there are many beginner courses available in Thailand. One of the best ways to learn Muay Thai is by attending a training camp in Thailand. There are many camps located throughout the country, each offering a unique experience in terms of location, type of training, accommodation, and what's included in the package. Choosing the right camp can be confusing, Suwit gym offers beginner course for everyone. The camp is near beautiful beach for training and holiday with Muay Thai program.
---
Muay Thai training in Thailand  @ Suwit – Muay Thai gym in Thailand at Phuket  @ www.suwitmuaythaigym.com