If you ever wanted to delve deeper into the world of martial arts, then now is the perfect time to do so. There are many different martial arts that you can try doing if you wish to get proficient at fighting. Lord knows there are many cases when you might need to know how to fight – we live in a dangerous world after all.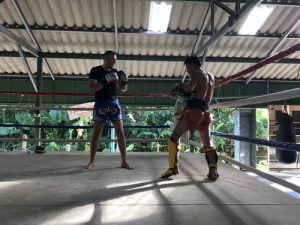 That being said, if you are after training an effective, efficient martial art, then we suggest that you try out the sport of Muay Thai. For those of you that don't know this – Muay Thai originates from Thailand. It's a martial art and a sport that many people train, all around the world. There are many Muay Thai training camps that operate around the world and, chances are, you could easily find one of them in the place where you live.
You might be interested in knowing what you can expect by training Muay Thai. Well, above all else, we can practically guarantee you that you won't be bored during your Muay Thai training sessions. They are all dynamic and unique and you will have to use your body in various ways.
First of all, you will have to learn how to attack. In Muay Thai, there are 8 different main points of attack. The first two are the fists. The second are the elbows. The third are the knees and the final two are the shins. This makes Muay Thai known as "the art of the eight limbs".
You'll also learn how to defend yourself as well. It won't matter if you could do devastating damage to your opponents if you don't know how to defend yourself at the same time. We suggest that you mind both the element of attacking and the element of defending if you want to become a proficient martial artist.
So, if you want to learn how to fight while having a lot of fun at the same time – we suggest that you give Muay Thai a shot. You will find that it's exceptionally fun and beneficial to train Muay Thai, no matter who you are or where you come from.