If you are just like most other people, then you probably lack time to pay attention to your physical condition and even to your health in general. This is not a surprise given the fact that modern men and women work a lot more than before and on top of that they need to take care of their family and the household. Sure, this is not something wrong, but we also must find time to work on ourselves both physically and emotionally in order to prevent the development of diseases and to keep our mind clear. One of the simplest methods to achieve that is to add physical activities during your holiday. This might not sound like the most exciting suggestion, but the truth is that fitness activities can be found, but only if you choose the right one.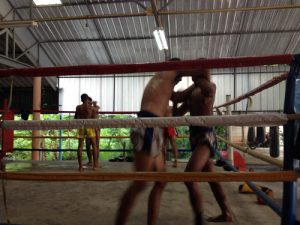 One fitness activity that is interesting and exciting and activity that can provide a fast result is Muay Thai. Muay Thai, commonly known as Thai boxing, is a popular and trending fitness activity, combat sport and martial art. Even though you can find classes dedicated to this sport in almost every popular gym, the best thing that you can do is to travel to the country where this sport was invented and the country where Muay Thai has a status of national sport – Thailand.
Thai people are very passionate about this sport because throughout history it has helped them prevent their land and professional fighters today are true stars which possess some incredible fighting skills. Of course, we are not talking about becoming a professional (which is also an option), we only suggest practicing Muay Thai in Thailand as a recreational activity. In this way you will shape your body, improve your physical and mental health and learn how to protect yourself. In addition, you will also relieve the stress that accumulates throughout your body over the year.
If you want to experience all these things and even more you must join a professional training camp like Suwit Muay Thai. This gym has helped dozens of students from every part of the world to achieve their fitness goals. They have professional instructors, top notch equipment, clean facilities and accommodation. Suwit Muay Thai provides family friendly environment and the same goes for Phuket Island where this camp is located.